LED constant current kit
4.50€

... for operation of standard 2mA or standard 20 mA LED's on 5...24 Volts.
This is a simple linear driver for LEDs with 2mA or 20 mA. The kit comes with two diffreren resistors, that allow you to build this constant current driver for either 2mA or 20mA Led's, and it includes 2 big white LED's and a green, a yellow and a red 5mm LED.
The constant current driver comes as a kit with manual. Some soldering is required. If you can't solder it yourself, just send us a note. We can also send it allready assembled.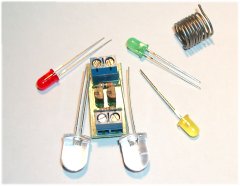 Customers who bought this product also purchased