Seatalk Alarm Device
149.00€
SeaNet Alarm is a small device that monitors a SeaTalk(R) network, different devices on a SeaTalk network , it monitors different alarm conditions and sets off an alarm when certain conditions appear.
The main functions are
Produce an unmistakable alarm when a SeaTalk instrument produces a warning or alarm.
Monitor the SeaTalk instruments and set off an alarm if an instrument - or the whole SeaTalk network - should stop working.
SeaNet Alarm provides
Remote alarm for ST40, ST50, ST60 depth & wind instruments
Remote alarm for autopilots
Remote alarm for SL,RL,C and E series radar
Built in alarm clock - wake up singelhanded sailor

Built in SeaTalk network surveillance and alarm if network stops sending data

SeaTalk instrument surveillance and alarm if instrument stops sending data
Monitors up to 10 alarms simultaniously
Solid state switch with short-circuit and overload protection
Pushbutton for alarm acknowledge and special functions
LED's to visualize alarm source
Galvanic isolation between SeaTalk network and alarm voltage
Powers supply and alarm power independent from SeaTalk network
Configuration via USB connection to PC and configuration software.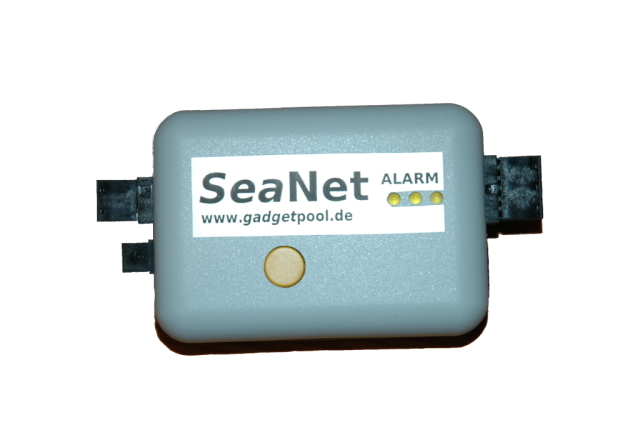 ---
 SeaTalk is Reg. Trademark of Raymarine Inc.  www.raymarine.com

SeaTalk Instruments are normally installed in the cockpit of your vessel.
The built in alarms are not loud enough to be heard by the crew inside a vessel or to wake up sleeping crew members.
So even with anchor alarm activated, it is not sure that the crew will wake up if the anchor is dragging.
Single handed skippers often get too little sleep and need a loud warning if depth, windspeed or radar indicates a dangerous situation. They usually also want to be waked up every half hour or hour in order to check if everything is all right.
It's easy to miss an instrument beep while sitting on the chart table while the engine is running.
It's easy to miss a radar beep, when the radar is mounted at the chart table and you are at the helm.
If an instrument should break, without the SeaNet Alarm it might take a long time before the failure is noticed. Maybe the boat operator would rely on a device that that isn't functioning any more.
There is clearly a need for loud sound or an optical alarm, that makes you aware of possible dangers and instruments failure.
With the SeaNet Alarm this needs can be filled in an easy and economic way.
When an alarm condition is recogniced, SeaNet Alarm activates a switch that can activate a powerfull external alarm and/or switch an optical alarm.
Alarm sources
SeaNet Alarm his highly configurable. It listens to different instrument alarms and also has it's own built in alarm triggers.
Alarms can be triggered by :
Internal "wake-up" timer → internally generated
SeaTalk network failure → internally generated
Shallow water alarm → from depth instrument
Anchor alarm → from depth instrument
Transducer defective → from depth instrument
High & low windspeed alarm → from wind instrument
Wind angle high & low alarm → from wind instrument
Windshift → from autopilot
Off course & drive stopped & auto release alarm → from autopilot

Object in guard band 1&2 → from radar
MOB Alarm → from instrument
Instrument failure → internally generated
Alarms can be switched on/off individually. A unique alarm sound pattern can be assigned to the different alarms – so that the user can "hear" what caused the alarm.
User Interface
SeaNet Alarm has

* 1 Pushbutton
* 3 LED's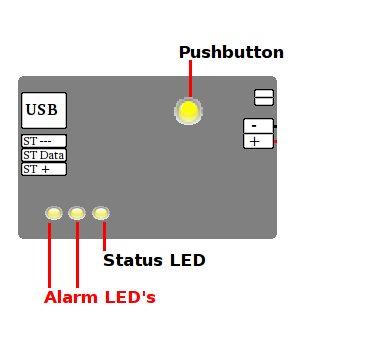 With the pushbutton , an active alarm can be acknowleded to turn off the alarm manually.
The Led's show system status and active alarms.
An alarm type - like depth, windspeed,autopilot etc. - can be assigned to a LED, so that you can "see" what triggered the alarm.

Alarm Output
SeaNet Alarm has a detachable 2 pin screw terminal to connect one or more alarms, sirens or lights.
This output is protected against short circuits, has a thermal protection an overvoltage and overload protection and current limitation.
Nominal alarm current - up to 3.5 A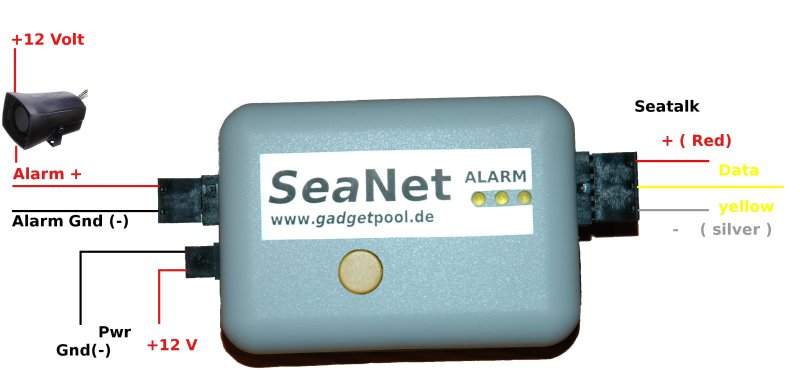 When will alarms be set / reset
SeaNet Alarm listens to the SeaTalk Bus for coming or going alarm conditions.
Instrument alarms – like shallow water, high wind speed etc. - have to be set and enabled in the SeaTalk instrument.
The Alarm output is activated when :

An instrument newly sets the appropriate alarm on the SeaTalk Bus
AND this alarm type is enabled in SeaNet Alarm.
AND the Alarm is active longer than delay time set in SeaNet Alarm ( If delay time is set )
The Alarm output is reset when :
An Instrument clears the appropriate alarm on the SeaTalk Bus
OR the acknowledge button on SeaNet Alarm is pressed
OR alarm duration time, set in SeaNet Alarm, is expired
An alarm will be retriggered if the appropriate alarm is reset on the SeaTalk Bus and later set again.
If an alarm stays active on the seatalk bus and the alarm output is switched off by the acknowledge button or timeout, this alarm will only be retriggered after it has disapperared on SeaTalk and reappeared later.
A "SeaTalk instrument failure" alarm is triggered, when an instrument ( like depth, windspeed etc.) has sent data to the Seatalk network, and than suddenly stops sending data.
It is not possible to announce two or more alarms at the same time. If two or more alarms are active at the same time, the first one will be announced.
When the currently announced alarm is acknowledged – by pressing the pushbutton or because it's alarm time has exired – the next alarm be announced.
If a second alarm comes and goes while the first alarm is still active, this second alarm will never sound.

Power supply

SeaNet Alarm requires a 12 Volt power supply. This power supply is isolated from the SeaTalk network. This galvanic isolation protects the SeaTalk network and enables the SeaNet Alarm to react to possible failures of the SeaTalk network – even if SeaTalk power should be disrupted.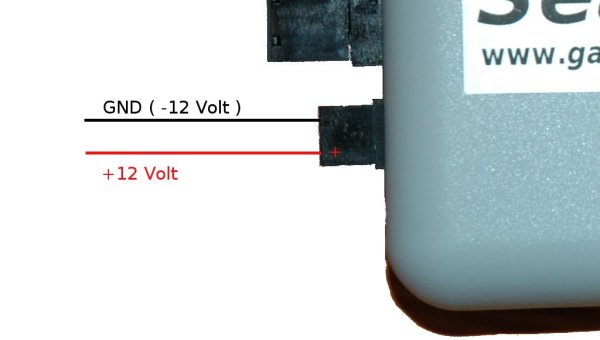 SeaTalk connection
SeaNet Alarm has a detatchable 3 pin screw terminal for connection to the SeaTalk network.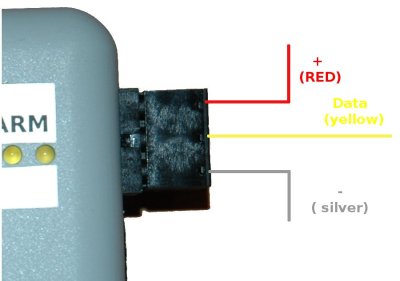 Configuration
SeaNet Alarm comes with a USB cable and a configuration software for a standard PC.
The configuration software is available for Microsoft Windows and for Linux.
Currently the MS-Windows Version comes as executable and Source.
Linux Version comes as source and executable for Ubuntu, Fedora 5, Suse etc..
For other Linux systems it might be necessary to compile it on your machine.
No Problem - all sources are included.

Main Configuration screen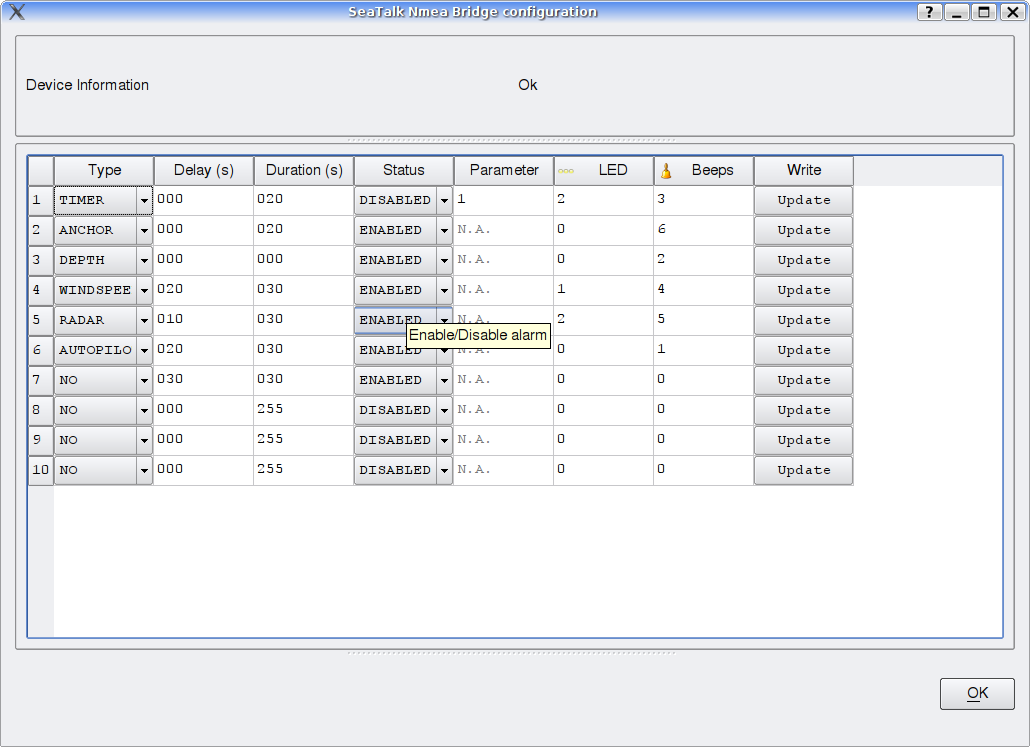 Alarm status and logging window
Technical Data
| | |
| --- | --- |
| Power input | 9-15 Volt DC |
| Current draw LED off | 16,8 mA |
| Current draw LED on | 1,8 mA per LED |
| Max. switched current | 3.5 A, 11-15 Volt DC. Low Side switch. |
| | |
| Dimensions | 8 cm x 5,5 cm ( without Plugs ) |
| Dimensions | 11 cm x 5,5 cm ( with Plugs ) |
SeaNet Alarm Software
The heart of SeaNet Alarm is a standard AT-Mega microcontroller made by ATMEL.
SeaNet Alarm comes with a CD with all source codes of the board software.
No licence fees, no hidden functions. The software of SeaTalk alarm can be adapted, improoved, extended or changed in any way you like. The necessary compilers are available freely in the internet. SeaNet Alarm comes with a built in boot loader software and a programmer software for the PC. You don't need any special hardware programmer to bring a new software onto SeaNet Alarm. Just a normal RS232 cable.


For further information aboutr SeaNet Alarm - please read the manual.