SeaTalk NMEA Bridge32 (basic line) with repeater display
178.50€

This is just our "baseLine" version. Please note that there's a product with extended functions availiable.
Click here to go to the new product pages
This product contains the for the last years established and proven technology. Please note that we do offer this product for the bargain hunter. We'll not change any functions or add features in this product ( except bugfixes ) in the future.
---
The SeaTalk <-> NMEA Bridge is a single chip computer, that translates information between SeaTalk and NMEA.
It can read & write NMEA and read & write SeaTalk data.
The seatalk bridge comes with housing and LCD display.
This LCD Display acts as an additional display for relevant navigation data from Seatalk and NMEA devices right on the chart table
With this display you can see data like speed, depth, position, windspeed, waypoint info, etc. combined from both systems ( SeaTalk and NMEA ) on one display.
All other parameters are idendical to the bridge without display.
The repeater has 1 SeaTalk bus connector and 1 serial port for NMEA or PC connection
ATmega32 Processor
1 * SeaTalk Port ( read & write SeaTalk )
1 * NMEA Port ( RS232 & RS422 )
On board volatage regulator
LCD display connector
Boot loader (to update to new Software Versions)
comes with printed manual and CD with all source codes, compiler,boot loader software

Here are two simple examples on what you can do with the SeaTalk NMEA Bridge Connect your SeaTalk Instruments to your NMEA Network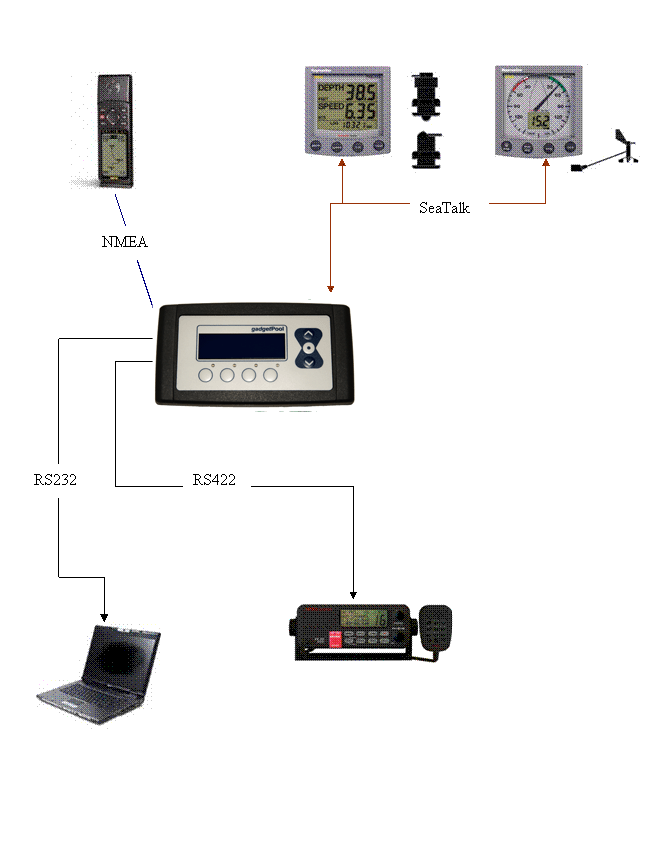 click on the picture to get a bigger picture
Get data from your SeaTalk instruments to NMEA devices or to your computer
If you have a Raymarine St60 Tridata, a ST40 Wind Instrument or other SeaTalk devices, you can let the SeaTalk NMEA Bridge translate Information from SeaTalk to NMEA.
With this function a navigation notebook or a chartplotter can now display wind direction, wind speed, water depth, speed over water and much more.
Send Data from your NMEA Devices to SeaTalk Instrumens.
The speed over water function of a ST60 tridata needs to be adjusted.
The paddle wheels are different, waterflow arround different types of boat hulls are different - therfore your log need propper adjustent in order to display a correct speed over water.
With the SeaTalk Nmea Bridge, you can send speed information from your NMEA GPS to the SeaTalk Instrument. This makes adjustment accurate, easy, fast.
These are just two verry simple examples. With the SeaTalk NMEA Bridge you will many functions and features that haven't been possible before.
Additionally you get a repeater display that shows information from SeaTalk and from NMEA devices in one single display right on your chart table




Additionally to the standard SeaTalk -> NMEA conversion, the bridge software offers a new - NMEA like - command $STALK.
With the command $STALK,xx,yy,zz the PC can send any SeaTalk command you like. Your PC just sends a simple text string, and the bridge handels the spezial 9-bit protocoll, the collision detection and the electrical connection to the SeaTalk bus. ( Either with your own software or with a standard terminal programm )
With this new command a normal pc or notebook can send any SeaTalk command and so it can control or manage SeaTalk devices. ( Example : Switch Illumination of SeaTalk instrument on/off, Change Display units from mph to knots and and and )
This special function is also available the other way arround.
The bridge can send every SeaTalk datagram as a $STALK,xx,yy,zz string to the PC.
This simple text string can be read and computed by the pc and so we can read information from the SeaTalk Bus, that have no corresponding NMEA sentence. ( Example : see above )
The bridge comes with a printed manual, all source codes of the bridge software, compilers for the Atmel processor used on the bridge, and bootloader software.
You can look at the software and change it to whatever you want.
( Programming knowledge in C for embedded proccessors is required )
---
The protocol converter is a research project
It is used for research on data communication, computer communication and data conversion with computers and instruments on board of boats.
It must not be used as the only source for navigation information
The user allways must to use charts and other conventional navigation aids.
Liability cannot be accepted for any damages, personal injuries or malfunctions caused by this converter.
To make sure that the SeaTalk-NMEA-Bridge is what you need, please read the manual before ordering.
A manual in PDF format can be loaded HERE
An overview of the operation modes and configuration can be loaded HERE
Customers who bought this product also purchased